Our Farms
The Farm is located 10 km south of Arifwala near the historic town of Qabula. Since its humble beginnings in 1991 from 55 acres, the farm has grown rapidly into an 800 acres state of the art facility.
The two main crops are potato and corn. The farm is completely mechanised for sowing, nurturing, harvesting and handling the crop.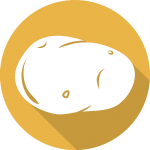 Potato Farm
Rafiq Agrico introduced potato farming in the local Arifwala region in the early nineties. However, there was a lack of storage facility in the region. Therefore, the cold storage facility was established in 1995 to support the local potato growers in the region, which proved to be a great success, and has led to increased potato cultivation in the region.
The farm is cultivated using a range of local and imported machinery. Some of the red varieties grown are Asterix, Kuroda and Lady Rosetta and white varieties are Santé, Diament and Challenger etc.
Rafiq Agrico was also the first to introduce 4-row planters and harvester powered by a tractor in Pakistan. In 2001, it introduced a mechanical potato grading system to increase efficiency and reduce costs. Since then, Rafiq Agrico has made investments to ensure that the whole potato crop can be mechanically graded, packed and sent to the cold storage facility in an efficient manner.